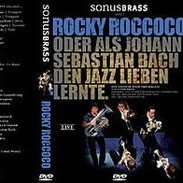 Rocky Roccoco
rewarded with the YEAH! Young EARopean Award 2011
A DVD produced in November 2011 and the outcome is magical!
Not to brag but… Okay, in this case we should be forgiven. The story contains a lot of music that has survived for centuries as well as a lot of music for the modern world.  Old rebels against new, two worlds clash – baroque and jazz.
A thrilling exchange begins to take place. One beautiful hour of magic and entertainment. Thanks to the fabulous film team from the company "Fuse"!
Price: 19,00.- Euro (including taxes)
+ shipping costs: 3,- Euro within Austria; international shipping prices may vary
buy